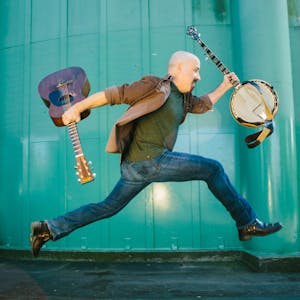 TONY FURTADO TRIO featuring Matt Flinner *Canceled*
JORDAN MCCONNELL & LEONARD PODOLAK (of The Duhks)
TONY FURTADO TRIO featuring Matt Flinner + JORDAN MCCONNELL & LEONARD PODOLAK (of The Duhks)
Tickets: $15 adv/$17.50 dos ($19 at the door)
$3 Under 21 Surcharge at Door / 18+ Valid ID required for entry into venue / Under 18 permitted with parent - Accepted forms of ID: State Issued ID or Driver's License, Military ID, Passport.
Tony is an evocative and soulful singer, a wide-ranging songwriter and a virtuoso multi-instrumentalist adept on banjo, cello-banjo, slide guitar and baritone ukulele who mixes and matches sounds and styles with the flair of a master chef (he's also an accomplished sculptor, but that's another story). All of the music of America is in Tony's music. Relix hit the nail on the head when writing of Tony: "True talent doesn't need categories."
Tony is joined by Grammy-nominated mandolinist Matt Flinner and 3-time national fiddle champion Luke Price.
JORDAN MCCONNELL & LEONARD PODOLAK (of The Duhks)
Founding members of the internationally acclaimed group The Duhks, Jordan & Leonard bring their wizardry to the stage as a duo, showcasing Leonard's classic and heralded claw-hammer banjo technique and Jordan's mastery on the guitar.

Venue Information:
Neighborhood Theatre
511 E 36th Street
Charlotte, NC, 28205