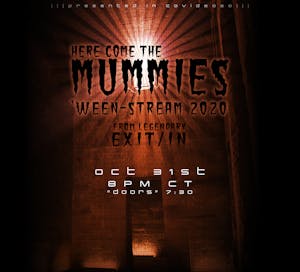 Live Stream Event presented by Nashville's Exit/In Music Forum
HERE COME THE MUMMIES 'Ween-Stream 2020'
$22.00 - $52.00
On ExitIn
Funk / Rock / Blues
*Purchasing tickets via this link will help raise funds to save funds Neighborhood Theatre*
Here Come the Mummies 'Ween-Stream 2020
Oh, baby, what a year it hasn't been! We're gonna do what we can to fix that right freakin' now! We're bringing you Here Come the Mummies 'Ween-Stream 2020! It's a live stream comin' to you from the Legendary Exit/In on 10/31 at 8PM CT. It's $20 for the stream (cheap date), or $50 for the stream plus exclusive party pack, featuring HCTM branded party items, while supplies last and only available through 10/16 so we can get it to you before the show!
Each 'WeenStream 2020 Party Pack Serves 4. It contains:
1 12oz "5-Hour Exhumation Energy Serum", to use as a mixer.
1 "Embalming Fluid" cocktail recipe. (You provide your own booze, baby.)
2 packages of "H'Orville Deadenbacher's Original Bluttery Popcorn"
4 HCTM "Kiss of Death" Chocolate Kisses
10 HCTM "Tooth Decay Premium Mint-Ohs"
Plus assorted tasty bits.
Here Come the Mummies is an eight-piece funk-rock band of 5000 year-old Egyptian Mummies with a one-track mind. Their "Terrifying Funk from Beyond the Grave" is sure to get you into them (and possibly vice versa).

Since their discovery HCTM has been direct support for P-Funk, Al Green, Mavis Staples, KC and the Sunshine Band, and Cheap Trick; rocked Super Bowl Village; become a regular on The Bob and Tom Show; played massive festivals like Summer Camp, Common Ground, Voodoo Fest, Musikfest, Suwannee Hulaween, and Riverbend; and sold tickets by the thousands across large swaths of North America.

Maybe that's why the ladies (and some dudes) can't stop losing their minds over these mayhem-inducing mavens of mirth.

Some say they were cursed after deflowering a great Pharaoh's daughter. Others claim they are reincarnated Grammy-Winning studio musicians. Regardless, HCTM's mysterious personas, cunning song-craft, and unrelenting live show will bend your brain, and melt your face. Get ready, for Here Come The Mummies.

● HCTM "'KILLED' it… Not only did they pack their stage - they were the hit of the night when they jumped on stage with moe. in front of 20,000." - Jay Goldberg, Summer Camp Music Festival

● "Here Come The Mummies are one bad-ass band, a hybrid of Idris Muhammad, George Clinton, Ohio Players, and Earth, Wind & Fire." -Blurt Magazine

● "A band unlike any other." -examiner.com

● "That's the most fun I've had in 20 years." -Bob Kevoian, The Bob & Tom Show

● "Cock wobbling brilliant." -Joe Elliott of Def Leppard

Venue Information:
Neighborhood Theatre
511 E 36th Street
Charlotte, NC, 28205